Simple Drum Lessons For Every Drummer
Whether you are a beginner or an experienced drummer, Simpledrummer's online drum lessons focus on what really matters – clear, concise, easy to follow lessons and lots of play-along practice videos. Try it for FREE for 14 days. No credit card required.
The Best Online Drum Lessons Experience
Step-By-Step Instructional & Play-Along Drum Videos
Whether you're just starting out or you already have some experience, Simpledrummer® offers a wide range of online drum lessons for every drummer. Learn rudiments and drumming techniques, enhance your vocabulary of rhythms and learn popular songs. You will find everything you need to learn and improve your drumming skills.
Every drummer is different and unique, which is why we have four membership levels to choose from. Access everything we offer or only the content that best suits you. Click the button to read more about each membership level.
LEARN HOW TO PLAY THE DRUMS IN THE COMFORT OF YOUR OWN HOME
Our online drum lessons are designed to teach you specific skillsets, step by step with guidance and accountability. Whether you want to improve your technique, grooves, fills, independence, coordination or speed, our lessons are a great place to start.
LESSONS
Videos are broken down into bite-sized, easily consumable chunks.
PRACTICE
Loads of play-along practice videos allowing you to perfect your skills
SAVE TIME
Pick-up right where you left off every time. Easily search for new lessons when you advance.
PROGRESS
Set your own goals and track your progress within each lesson.
"Simpledrummer does a great job of getting drummers right into the joy and fun of playing songs. The lessons are short and sweet, to-the-point and extremely well put together. The strong focus on the fundamentals and connecting drumming with real songs, makes this a cool place for anyone to move forward at their own pace in their journey as a drummer."
Shawn Pelton
Saturday Night Live, legendary session drummer
Taking your drumming to a higher level is easier than ever. Our lesson library has over 1,200 lesson and practice videos to help you meet your drumming goals. The Song Library is stocked with songs by your favourite artists in a variety of musical genres. Follow our step-by-step system or choose your own drumming adventure. All our plans are affordable and 100% risk-free. You can cancel anytime with no hidden fees.
Simple solution for beginners
Level 1-2 Lessons
Song Of The Week
Progress Tracker
Limited Access
No Live Lesson
Full access to lessons, songs and more
All Lessons
All Songs
Progress Tracker
Full Access
No Live Lesson

Online lessons and personalized support
All Lessons
All Songs
Progress Tracker
Full Access
30 Minute Live Lesson

*No credit card is required. A free trial includes all features of our Rock n' Roller membership and expires after 14 days.
Become a member of the Simpledrummer® community today!
"All the lessons at Simpledrummer are thorough, easy to follow and they never gloss over the tricky parts. Simpledrummer identifies the hidden obstacles and zeroes in on how to overcome them."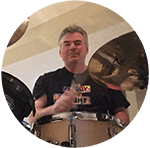 "Simpledrummer has a very unique and simple approach to teaching that has helped me improve my skills immensely. The topics range from jazz and latin to rudiments, grooves and more. I've learned so much from each lesson."

GET FULL ACCESS TO SIMPLEDRUMMER® FOR FREE FOR 14 DAYS.
"Simpledrummer offers a totally comprehensive user-friendly approach to teaching/learning drums in the Internet age. It is an excellent tool for the beginner, intermediate and even advanced player. I'm always excited to see what song they'll demonstrate."
Josh Trager
Sam Roberts Band
The Best Online Drum Lessons Experience
Simpledrummer® has online drum lessons in all styles and a range of skill levels. Our Song Library features song lessons by popular artists in many genres of music. With a focus on improving at your own pace, all our lessons have step-by-step instructions and built-in practice tools to help you progress. Join our growing community of drummers all over the world and learn the skills you need to take your drumming to a higher level. Whether you are a beginner or experienced drummer, you'll be improving your skills in no time.