Simpledrummer has the best beginner drum lessons. You won't find any other site offering beginner drum lessons that are interactive online drum lessons. At Simpledrummer, you get short lesson videos followed by play-along practice videos. This is the recipe for the best beginner drum lessons online. No other site has beginner drum lessons that are as effective as the beginner drum lessons you'll find at Simpledrummer.
Why pay hundreds of dollars for beginner drum lessons that are in-person and limited. You only get 30 mins each time. The beginner drum lessons at Simpledrummer allow you to spend endless unlimited hours with online drum lessons enjoying the beginner drum lessons in our beginner drum lessons library.
I love teaching beginner drum lessons. Here you can find my pre-recorded beginner drum lessons content or book a live 1-on-1 lesson with me. There are no other beginner drum lessons as effective as the beginner drum lessons we have at Simpledrummer.
Say Hello To A

Better Way

To Learn The Drums!
Not Progressing? Feeling Lost?
You've always had a passion for music and now you want to be able to create some of your own!
So you bought a drum set and committed yourself to learning.
You search the internet for "beginner drum lessons" and discover the beats and songs you've been dying to play.
However, when you play, it sounds nothing like the guy on the video that's making it seem effortless.
Does this sound like you??
Let's face it… there is no shortage of beginner drum lessons across the vast expanse of the internet.
Many of them feature world-renowned drummers!
And no, I'm not about to say that you can't get anything from these videos, 
but they all lack one CRUCIAL component to effective learning…
That is… interactiveness with a qualified instructor.

The truth is there is no substitute for a real lesson with a qualified instructor, especially if you're a beginner.
Beginners tend to fail at recognizing lessons that are within their skill level.
And most of these online videos expect you to have previous experience.
That's why trying to connect the dots from random videos across the internet leaves most beginners feeling lost, overwhelmed, not progressing, and wasting loads of time.
Simply watching a video and trying to recreate it afterward isn't an effective way to learn.
You need to be able to play along and interact with an instructor.
And that's never been possible… until now!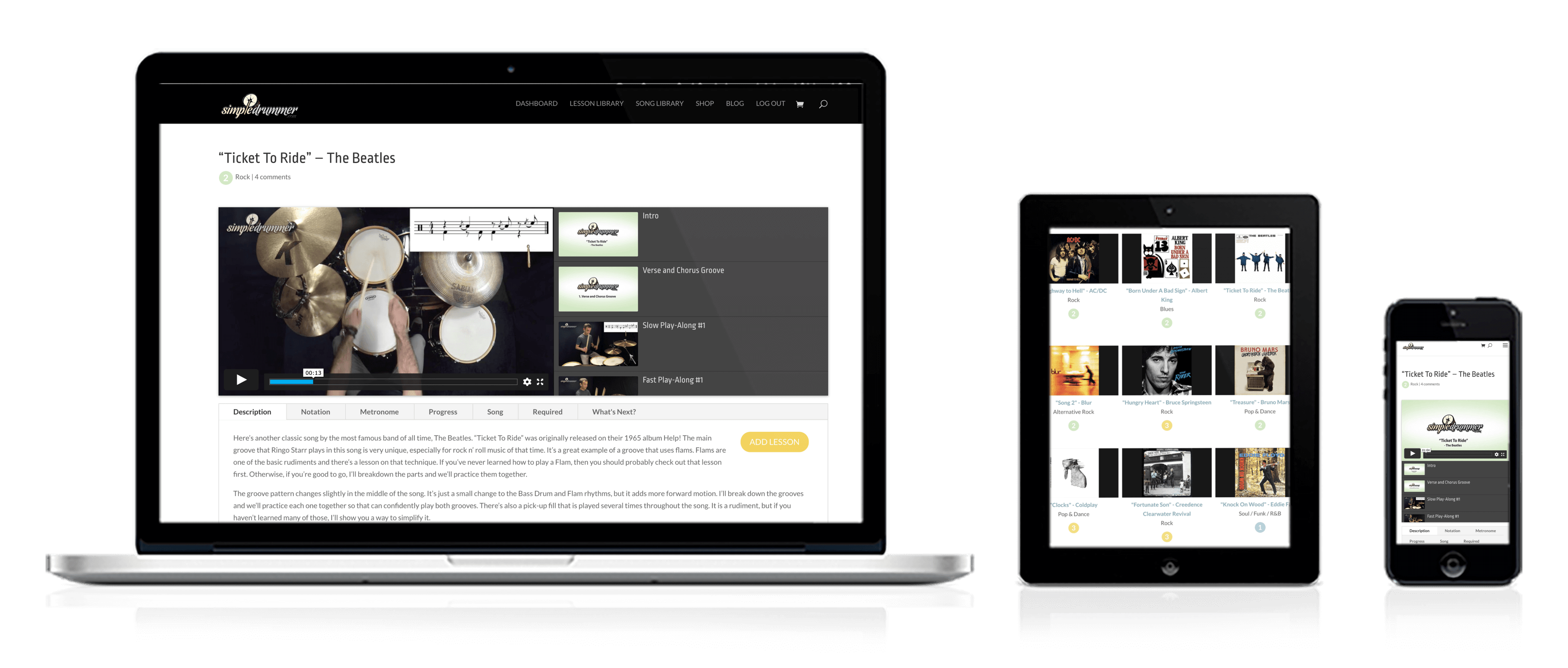 Interactive, Beginner Drum Lessons To Help You Learn More Effectively On The Drums…
Or Your Money Back!!
What's Inside Simpledrummer?
Because of our unique approach, Simpledrummer® is different from any other drumming education platform on the internet.
Every lesson includes looping play-along videos!
That way, you can practice with the instructor for as long as you want.
Say goodbye to the days of trying to piece together different videos from across the internet.
Now all you have to do is hit play and begin practicing along with the video just like you would with a real instructor!
Playing along with an instructor is a great way to learn; however, if you're not practicing within your skill level, frustration and confusion are inevitable.
That's why we have lessons and play-alongs for every skill level.

Easy     
     Hard
All of our lessons focus on what really matters – clear, concise, easy-to-follow instruction.
But wait! Amazing play-along videos aren't the only thing that Simpledrummer® offers… 

When you join Simpledrummer, not only do you get instant access to over 1,400 lessons and play-along videos,
you also get a song library loaded with song lessons by popular artists from many genres!
Inside every lesson are downloadable PDFs with practice exercises.
You can use these PDF's to practice offline and use them as a reference if you get stuck or lost.
PDFs inside each song lesson is a complete song breakdown in full drum notation.
By following your very own suggested lesson roadmap, you'll be able to complete each lesson at your own pace.
Spend Less Time Watching and

More Time Playing!
Simpledrummer® was designed to make your practice time as effective as possible!
Because we believe that the best form of motivation is seeing quick results.
That's why our beginner drum lessons…
   Are designed to be hands-on.
  Are streamlined and include recommendations appropriate for your skill level.
  Allow you to easily pick up where you left off and advance to new lessons.
   Come with a playlist of concise instructional videos followed by looping practice play-along videos.
So what are you still waiting for?
It's

never been easier

to learn the drums!
In-person drum lessons can cost up to $60 an hour, and that's just for one session!
With Simpledrummer®, you get endless hours of premium drum lessons for a fraction of the cost of JUST ONE in-person drum lesson.
You can start today for as little as

$15 a month!
It's a complete no-brainer, look below and choose the  plan that's perfect for you!

Simple solution for beginners
Level 1-2 Lessons
Song Of The Week
No Courses
No Live Lesson
Unlimited access to all lessons 
All Lessons
All Songs
All Courses
No Live Lesson
Full access and personal support
All Lessons
All Songs
Courses Included
30 Minute Live Lesson*
All prices in USD. Your membership begins as soon as you checkout.
*One, live 1-on-1 lesson included each month with this monthly plan. More info here.
See What The Pros Think...
"A logical and manageable approach to the drum set..."

"Simpledrummer® is a logical and manageable approach to the drum set, geared towards aspiring drummers of any age. The information is valuable, reliable and presented with a true passion."
– Big Wreck, Suzie McNeil
"An excellent tool for the beginner, intermediate and advanced drummer"

"Simpledrummer® offers a totally comprehensive and user-friendly approach to teaching/learning drums in the Internet age. It is an excellent tool for the beginner, intermediate and advanced drummer. I'm always excited to see what song he will demonstrate next."
– Sam Roberts Band
Learn From An Expert With Years Of Experience!
Kevin Mendes is a drummer based in Toronto, Canada.
After finishing his post-secondary studies in music, he began playing gigs across the country and internationally.
All while helping students become more proficient on the drums.
He is the mastermind behind Simpledrummer®, so let's hear what he has to say…
Sitting behind a drum kit and playing music with others is my favourite thing to do in life.
But it hasn't always been so easy to pursue this dream…
After my post-secondary studies in music, the name of the game became the "hustle".
I spent most of my 20s and 30s meeting other musicians, playing gigs, and trying to make the most out of a career as a drummer-for-hire.
During this time period, I was giving in-person lessons. 
I discovered that not only was I passionate about playing the drums, but I was passionate about teaching as well!
Then one day, a student mentioned that I should create an entire website dedicated to beginner drum lessons.
That's when the light bulb went off in my head…
After thousands of hours of filming, editing, and jumping through legal hoops, Simpledrummer® officially launched in 2018.
This has allowed me to share my knowledge of drumming with people all over the world while doing what I'm most passionate about… 
Playing the drums!
I know firsthand what it's like to be in your position.
That's why I've gone the extra mile to assemble beginner drum lessons that will leave no question unanswered.
After joining Simpledrummer®, you will have access to everything you will ever need to become a great drummer!
I look forward to seeing you inside!
Kevin Mendes
Is Simpledrummer Right For You?
To achieve REAL progress on the drums, you need to be disciplined.
Let's face it; online instruction isn't for everyone…
We want to see you succeed, but if you're the kind of person that needs extra accountability, Simpledrummer might not be the right fit for you.
And that's totally fine, but your ability to show up regularly (even when you don't feel like it) is what your success hinges on.
Not only was Simpledrummer® designed to get you seeing results fast,
but also to make your learning experience fun and enjoyable!

You don't have to dedicate 3 or 4 hours a day to practice.
You don't even need to devote an hour a day to practice…
With Simpledrummer®, you can get an effective practice session in only 15 minutes!
Consistency is key, and if you stick with the program, you'll become a better drummer in no time!
Don't just take it from me; see what our students have to say!
What Do Others Think Of Simpledrummer?
"He identifies the hidden obstacles and zeroes in on how to overcome them."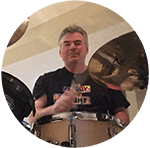 Bob, Age 55
Toronto, Canada
"I've been studying with Kevin for several years now. He is a master of 'breaking it down', whether it be a particular technique, groove, fill or song. He identifies the hidden obstacles and zeroes in on how to overcome them. The beginner drum lessons at Simpledrummer are presented in a methodical and effective way that is thorough yet easy to follow. I love that I can save my progress and get suitable choices as I go."
"A simple approach to teaching that I love…

I've learned so much from each lesson."
Ashlee, Age 22
San Diego, CA
"Kevin has a very unique and simple approach to teaching that I love. My membership to Simpledrummer has helped me to grow and improve my skills immensely. I love the range of topics from jazz and latin to rudiments, grooves and more. I've learned so much from each lesson. I now have the tools I need to learn on my own. Simpledrummer has helped me learn how to set and reach my own drumming goals."
What Happens After You Join?
Here at Simpledrummer we believe that the best day to start practicing was yesterday!
That's why after you start your membership to Simpledrummer, you can begin your drumming journey!
Inside, you can choose your skill level and learn lessons that are appropriate for you.
If you feel like the lessons are too easy or too hard, then feel free to navigate to a different lesson.
Not only will you have access to lessons within your skill level, but you'll have access to ALL pre-recorded lesson videos and play-along videos on the site!
Your dashboard area will help you personalize your profile, track progress, and archive all completed lessons and courses.
Are you still not sure if Simpledrummer is right for you?
Maybe you still have some questions like…
Do I need any musical experience to play the drums?
No, you don't need any musical or drumming experience of to learn how to play the drums on our site. A background on another instrument may help you understand the lesson materials easily.
We've made the first few beginner drum lessons with complete newbies in mind. If that's you and you have little to no experience, then you'll want to start with the Simple Basics category.
Do I need my own drum kit before I start learning how to play the drums?
No, you don't. All you need is a pair of drumsticks. You could learn the first few beginner drum lessons by playing with just your sticks on a chair and a few pillows.
There are other ways to access a drum kit without buying one. You can often rent drums from your local music shop for a temporary solution. You could also offer a donation to your local church or school in exchange for practice time on their drums during off hours.
Why do all the beginner drum lessons include play-along videos?
When in person, a student plays what they are learning along with the teacher in a room together. The play-along videos work the same way. They allow you to practice playing the examples along with me at fast and slow tempos. These videos are set to loop, so you can keep practicing as long as you want.
Why do I need to learn how to read drum notation?
Drummers don't always need to read music when they are performing. In a large group setting such as a big band, orchestra, or stage pit band, however, we do. Learning to read is a practice tool and a learning tool for drummers.
What styles of drumming can I learn on this site?
The Lesson Library includes beginner drum lessons on techniques and rhythms that apply to Rock, R&B, Pop, Alternative Rock, Jazz, Latin, World music, Rap/Hip-Hop, Soul, Funk, Reggae, Blues, and Country. In the Song Library, you will find beginner drum lessons on popular songs and how to play them in all of those styles listed above, and with new lessons released every week, our selection is always growing!
Simpledrummer® is

guaranteed

to help you…

or your money back!
Like we previously stated, we WANT to see you succeed, whether it's with us or not.
So If you sign up for any plan and find that it's not for you, simply cancel your membership within 30 days, and we'll give you a full refund.
No questions asked!
We literally took all of the risks out of this decision.
You have everything to gain and nothing to lose.