Playing The Drums
Doesn't Have To Be Difficult
Say Hello To Simplified Learning On The Drums
Tired Of Struggling On The Drums?
Are you tired of searching online for videos and lessons to practice? It can be difficult to connect the dots when you only learn bits and pieces from random videos. Do you sometimes practice what you find online, only to realize later that it is in fact, too challenging? How do you know if a lesson is appropriate for your skill level? How do you know what to learn next? Most of the time, you don't. Most drummers, especially beginners, end up wasting time, feeling lost and not progressing. 
Why Suffer Through Wasted Time And Frustration?
There is no shortage of drum lesson videos on the internet and many of them feature world famous drummers. While they may have something interesting to offer, these videos are usually specialized topics and created for drummers who already know what they are doing. Beginner lesson videos can be good, but you are left to practice alone. For a learning drummer, the truth is that there is no substitute for a real lesson with a qualified instructor. Simply watching a video isn't the same, no matter how good that video or drummer is. That's because you're only watching it and then trying to recreate what you learned afterwards. It is not interactive. You can't play-along with the teacher…until now.
You Need A Step-By-Step Approach That Works!
Playing along with the instructor is the best way to learn on the drums. That's what makes Simpledrummer® different. Every lesson includes looping play-along videos so that you can practice along with the instructor for as long as you want. Whether you are a beginner or experienced drummer, we have lessons that focus on what really matters – clear, concise, easy-to-follow instruction. Every instruction video is 2-5 minutes long and straight to the point so you don't waste any time. All our lessons come equipped with the tools you need to succeed on the drums. 
Give Yourself A Better Learning Experience.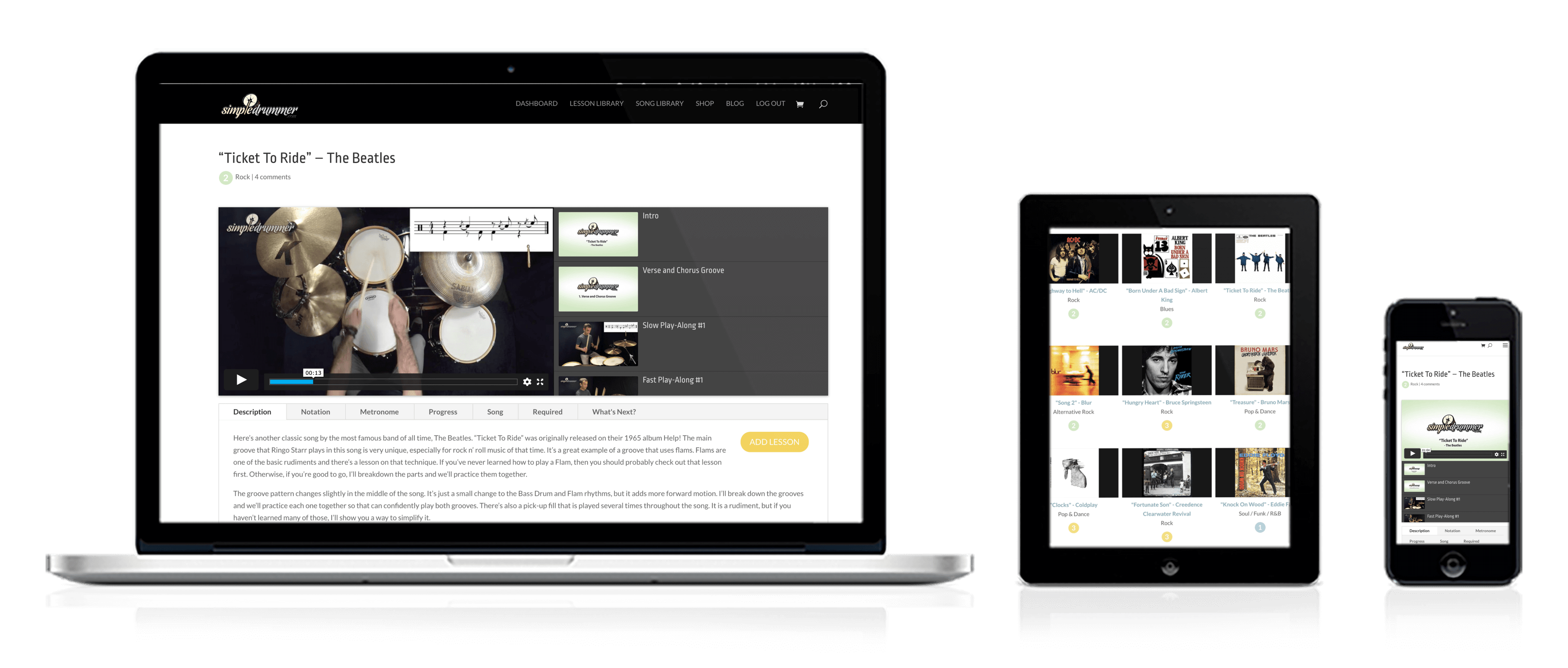 Simple, Interactive Drum Lessons To Help You Learn More Effectively On The Drums…
Or Your Money Back!!
   Get instant access to over 1,200 lesson and play-along videos.
   Song library loaded with lessons on songs by popular artists in many styles of music.
   A step-by-step learning approach in every lesson that works.
   Downloadable PDFs with multiple exercises within every lesson.
   Follow a suggested lesson roadmap or explore on your own.
What Are The Benefits Of A Membership at Simpledrummer?
Instant access to over 1,200 lesson and play-along videos on a variety of topics and songs.
Track your progress as you develop your drumming skills and advance through lessons.
Learn at your own pace, in the comfort of your own home and pick up where you left off.
A guided experience to help you build a complete foundation of skills on the drums.
Get The Most Out Of Your Practice Time!
Our members are people like you…learning and loving the drums!
Here's what some of our members have to say about Simpledrummer®.
"He identifies the hidden obstacles and zeroes in on how to overcome them."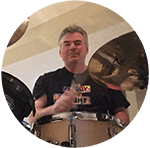 Bob, Age 55
Toronto, Canada
"I've been studying with Kevin for several years now. He is a master of 'breaking it down', whether it be a particular technique, groove, fill, style of music or song. He identifies the hidden obstacles and zeroes in on how to overcome them. The lessons at Simpledrummer are presented in a methodical and effective way that is thorough yet easy to follow. I love that I can save my progress and get suitable choices as I progress."
"A unique and simple approach to teaching that I love...

I've learned so much from each lesson."
Ashlee, Age 20
San Diego, CA
"Kevin has a very unique and simple approach to teaching that I love. My membership to Simpledrummer has helped me to grow and improve my skills immensely. I love the range of topics from jazz and latin to rudiments, grooves and more. I've learned so much from each lesson. I now have the tools I need to learn on my own. Simpledrummer has helped me learn how to set and reach my own drumming goals."
It's time to simplify your learning and

get more

out of your practice.
Choose the plan that's perfect for you. 
Simple solution for beginners
Level 1-2 Lessons
Song Of The Week
No Live Lesson
Unlimited access to all lessons 
All Lessons
All Songs
No Live Lesson
Full access and personalized support
All Lessons
All Songs
30 Minute Live Lesson*
All prices in USD. Your membership begins with your first monthly payment. Cancel or pause your membership anytime with no additional fees.
*One live 1-on-1 lesson included each month with this monthly plan. More info here. 
Simpledrummer® is

guaranteed

to help you…

or your money back!
Still not sure? I don't blame you. After all, how do you know if this is right for you?
The short answer is…you won't know, until you try it.
If you sign up for any plan and find that it's not for you, simply cancel your membership within 30 days for a full refund. You literally have nothing to lose and so much to gain. Try it out today 100% risk free.